Life Raft Group Canada is pleased to announce that the GIST Day of Learning is coming to the Maritimes. The Day of Learning is a FREE one-day conference that provides education and support for people who have GIST, their caregivers, healthcare teams and anyone who wishes to learn more about GIST.  The Day of Learning will cover many aspects of living with and understanding GIST as well as the new GIST therapies being developed.  It will also be a great opportunity for you to connect with other GIST patients, caregivers and the presenters.
Best Western Chocolate
Lake Hotel 
250 St Margaret's Bay Road
Halifax, NS  B3N 1J4
902-477-5611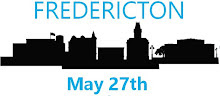 Crowne Plaza Fredericton
Lord Beaverbrook Hotel
659 Queen Street
Fredericton, NB  E3B 1C3
902-477-5611
Time: 10:30 AM – 3:00 PM
Doors open at 10:00 AM
Refreshments and Lunch will be served
QUESTIONS? or to REGISTER
Call: Malcolm Sutherland at  855-574-4478
Email: malcolm.sutherland@liferaftgroup.ca

AGENDA will include both a morning and afternoon session, with David Josephy as one of the presenters.
David Josephy is a Professor of Molecular and Cellular Biology at the University of Guelph, where he has taught for more than 30 years.  He is a GIST caregiver and has been President of GIST Sarcoma Life Raft Group Canada (LRGC) since its inception in 2008.  In 2010, David spent a sabbatical term working in the laboratory of Dr. Jonathan Fletcher, a leading GIST researcher at Brigham and Women's Hospital in Boston. David is a member of the Science Team of The Life Raft Group (USA) and collaborates with GIST patient support groups around the world.  His research interests are in the field of Molecular Toxicology.  He is particularly interested in the scientific basis for development of new small-molecule drugs for GIST.
Our recently published GIST Patient Handbook will be distributed at the conference
Curious to see what a GIST Day of Learning is all about?  Check out our photos and presentations from the last year's Day of Learning
liferaftgroup.ca/gist-day-learning-2017/
Since 2012, the GIST Day of Learning has been held in  Vancouver, Ottawa, Toronto and Montreal.